Lesson Information
Current Prices:
60 Minutes
CHF 75
45 Minutes
CHF 65
30 Minutes
CHF 50
Note - Lessons cancelled less than 48 hrs prior to a lesson will be charged at the full price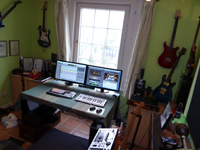 All lessons are given at my home Guitar Teaching Studio in Wädenswil, Switzerland. I have a wide range of guitars and amplifiers as well as music learning and recording software including ProTools to help you learn in the way that suits you best whether it's playing along with songs, learning music theory or just helping you to play better.
Guitar Teaching and Learning Method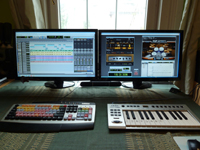 At your first lesson we will discuss and agree what it is that you want to learn developed around your personal aims and ambitions. This ensures that you get what you want from the guitar lessons whether it is studying for graded exams, learning to improvise, working on songs or just having fun. The lessons are on a one-to-one basis and tailored to your requirements and level of playing ability. If you'd like to learn a song then I will plan to include in your structured lessons.
What you will need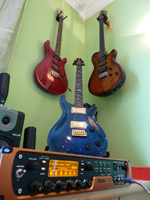 You will need either an electric or acoustic guitar. For beginners I can supply guitars, amps and leads if required. I have lots of books and teaching material to help with teaching.